David Laws admits not all schools in first phase of programme will be ready for 2017 deadline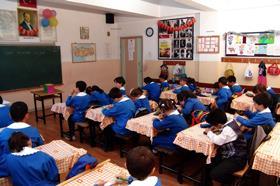 Schools minister David Laws has admitted that some of the 261 schools planned under the first phase of the government's Priority School Building Programme will not in fact be completed by the programme's 2017 deadline.
But speaking at an education select committee hearing last week, Laws denied claims by the Local Government Association that around half of the schools on the £2bn programme would miss the deadline.
Laws told the committee: "There are a very tiny number of schools with specific issues that necessarily are going to cause small delays of an almost unavoidable nature, but that is a tiny, single digit number out of a 260-school programme."
He said the delays were down to a limited number of local authorities having discussions about whether to merge schools, or problems with particular sites.
Otherwise, he said: "We are tracking and monitoring the progress of every single one of these schools. We know, school by school, precisely what the circumstances are. We are very confident that the vast, overwhelming majority of these things are on track."
Just 19 schools under the programme, which started in 2011, have so far opened and 60 are under construction. Laws claimed the programme was on track despite the fact that according to data published by the government last month only 71 construction contracts have so far been signed, and 100 schools have yet to have a contractor selected for them.
In the same session councillor David Simmons, chair of the Local Government Association's Children and Young People's Board, had estimated that "maybe half" of the first phase priority schools would be complete by the deadline. He said: "I would be surprised if all of them will be doable in that time."