Northern housebuilder heavily dependent upon government's Help to Buy scheme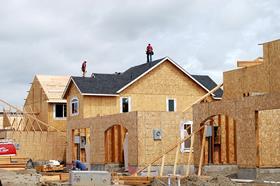 Developer MJ Gleeson has increased sales by 56% in the first six months of its financial year, with nearly half of all sales depending on the government's Help to Buy scheme.
The northern housebuilder said it sold 258 homes in the six months to the end of December 2013, with 44% of those sales benefitting from the government's equity loan scheme.
It increased the number of sites it is selling from to 33 from 27 in the period.
The firm, which also trades land in the south of England, said it now holds interests in land for 21,600 homes that it will sell on to other developers.
Jolyon Harrison, chief executive, said the results were "encouraging".
"The Group continues to benefit from our twin track strategy focussed on providing low cost family homes in the North of England, and strategic land promotion in the South," he said.