Defence Infrastructure Organisation picks five firms for framework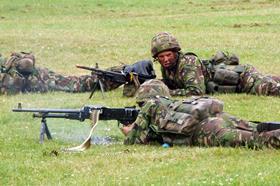 The estates arm of the Ministry of Defence has announced the appointment of five companies to its framework for the design and build of up to £250m worth of projects in Scotland.
Under its Next Generation Estate Contracts programme, the Defence Infrastructure Organisation (DIO) as awarded contracts for its Scottish Framework for Capital Works projects.
The five companies appointed to the framework are Henry Brothers, Interserve, a Kier and John Graham joint venture, Lend Lease and Miller.
The framework is estimated to be worth between £100m and £250m and will operate for an initial four-year period, with the option to extend by up to a further three years. It will deliver projects worth up to £12m apiece.
The five companies will be invited to engage in 'mini-competitions', tendering for design & build solutions.
The initial projects likely to be delivered through the Scotland Framework include bases for troops being relocated from Germany and to accommodate the planned increase in the number of army reserves.
Leo O' Shea, director of service delivery for DIO, said: The Capital Works Framework programme will ensure ongoing competitive tension, better value for money, and will speed up the procurement of projects."
The Scotland framework follows the appointments of the National Framework and the East Midlands and Eastern England Frameworks last year. The National Framework is designed for more complex projects and cross-region programmes which are worth up to £50m.
In line with the government construction strategy, the frameworks will introduce use of Building Information Modelling (BIM) and the nec3 form of contract, adopt prompt payment principles through the use project bank accounts and other initiatives, and incorporate effective performance management, continuous improvement and benchmarking arrangements.