Successful contractors will deliver design and build projects throughout the south of England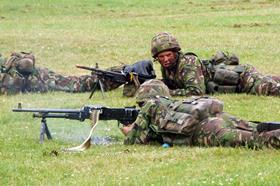 The Ministry of Defence's buying arm the Defence Infrastructure Organisation has picked six contractors for design and build frameworks worth £650m covering the south of England.
Morgan Sindall, Kier, Volker Fitzpatrick and Galliford Try have won places across two frameworks covering the South-east and South-west. Meanwhile, Henry Brothers (Magherafelt) has won a spot on the South-east framework and HBDW SPV has won a place on the South-west framework.
Under the frameworks the winning contractors will deliver capital works projects worth up to £12m, with 'mini-competitions' held between the firms for jobs. Both frameworks will run for an initial four-year period, with the option to extend by up to a further three years.
The South-west framework is estimated to be worth up to £400m over the initial four-year period, and the South-east worth £250m.
Lea O'Shea, director of service delivery at the Defence Infrastructure Organisation, said: "The Capital Works Framework programme will ensure ongoing competitive tension, better value for money, and will speed up the procurement of projects."
Andy Parker, director of defence at Morgan Sindall, said: "As an organisation, Morgan Sindall prides itself on remaining focussed on understanding and meeting the customer's needs. It's about having the flexibility and responsiveness to help the military meet its operational needs, whether that's a new barracks, training facility or administrative building.
"We look forward to building upon the relationships already developed on the East and East Midlands framework as we work closely with DIO to deliver defence infrastructure to meet the needs of our Armed Forces."