Defence Infrastructure Organisation chief concedes group has "not been the easiest to do business with"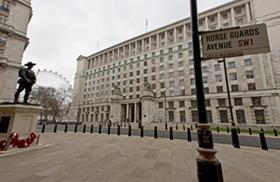 The Ministry of Defence (MoD) has unveiled plans to diversify its construction supply chain and simplify procurement after one its infrastructure bodies admitted it has been difficult to work with.
A new commercial strategy from the Defence Infrastructure Organisation (DIO), the body that builds, maintains and services the infrastructure needed to support defence, has set out its future plans for working with suppliers.
The DIO currently spends £3bn each year buying infrastructure services to enable the defence force to live, work, train and deploy, both locally and overseas.
The strategy, which has been developed in consultation with industry partners, provides information on the types of opportunities available to prospective suppliers and outlines plans to create and sustain a competitive market.
At the heart of the plan is the importance of creating and sustaining a broad and more diverse supply base which increases value back to the taxpayer by generating wider competition.
Through increasing supplier numbers and creating a competitive base, the strategy aims to offer more opportunities to SMEs, as well as large suppliers.
Graham Dalton, chief executive of the DIO, said: "We realise that we have not been the easiest organisation to do business with in the past and we are dedicated to changing that. This strategy sets out our intent to broaden our supply base, and for our existing and prospective suppliers to have the confidence to work with us."
Minister for defence Tobias Ellwood added: "Working with industry is key, and this commercial strategy will ensure that the £3bn we invest each year in our estate gives more value for money, is better aligned to military needs and gives more certainty to the defence supply chain."