Ministry of Defence launches new £350m FM contract, and seeks firms for two regional capital works frameworks worth £1.1bn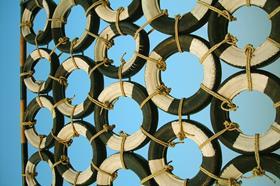 The Ministry of Defence has started the search for firms for a new £350m facilities maintenance and repair contract for sites in the UK that are used by the US military.
The prime contract, announced by the MoD's estates arm the Defence Infrastructure Organisation (DIO) in partnership with United States Visiting Forces (USVF), is worth around £70m million per year and will run over 5 years, with an option to extend for a further five years.
It will cover a number of air bases currently used by USVF, including RAF Lakenheath and RAF Mildenhall in Suffolk, RAF Alconbury and RAF Molesworth in Cambridgeshire, RAF Croughton in Northamptonshire, RAF Fairford in Gloucestershire, and RAF Menwith Hill in Yorkshire.
The DIO is now inviting expressions of interest, marking the start of the procurement process for the new contract.
The new contract will include the provision of maintenance and repair services on all UK military sites used by USVF.
This includes a 24/7 emergency helpdesk, pest control, maintenance of housing, hospitals and utilities infrastructure, snow and ice clearance, grounds maintenance and a refuse collection service.
It is expected that the contract will be awarded by spring 2016, coming into service in late 2016.
Meanwhile, the DIO has also begun pre-qualifying firms for its £700m South-east and £400m South-west regional capital framework contracts.
The frameworks cover a range of military airfields, naval bases and military establishments across the south of England from Cornwall to Kent and as far north as Gloucestershire and Oxfordshire, including the London area.
The frameworks, part of the DIO's Next Generation Estate Contracts, cover projects worth up to £12m, and will run for four years, with an option to extend up to a further three years.
It is expected that the contracts will be awarded by summer 2015, with five firms expected to be appointed to each framework.