Architect working with Swedish off-site housing manufacturer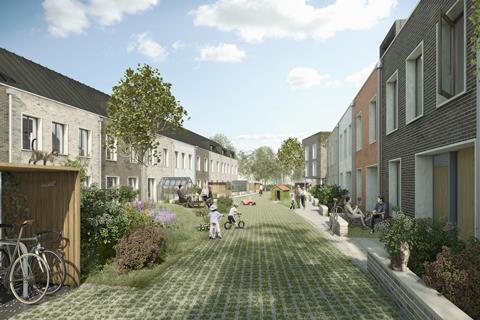 Mole Architects has been appointed to design Cambridge's first co-housing project.
The new community, on a one-hectare council-owned site at Orchard Park, will contain 40 homes of various typologies arranged around a common house and shared garden.
The timber scheme has been designed using passive thermal designs principles and will give residents a choice of floorplans, number of bedrooms, interior design and external finishes.
Mole Architects principal Meredith Bowles said: "This is a very exciting project. We were asked for a design that provided beautiful, simple homes that can be readily adapted and customised to meet the needs of their inhabitants.
"The dwellings will wear their passive design principles and Swedish timber build system lightly and look for the most part like a contemporary take on the traditional Cambridge terrace. The common house, on the other hand, will be a real one-off and a fitting centrepiece for this new community."
Cambridge Cohousing Ltd and the city council, which initiated the project, have appointed TOWNhus as developer, a joint venture between UK developer TOWN and Swedish housing manufacturer Trivselhus.
The competitive bidding process saw a shortlisted group of developers invited to submit proposals for the site, known as K1, working to a brief prepared by Cambridge Cohousing over the last two years.
The development takes the form of three terraces of houses and paired flats, together with a low-rise apartment building, with dwellings being finished in a range of four different kinds of brick, chosen to complement each other and the local setting. The common house will form a stand-out building visible to people passing the site on King's Hedges Road.
City councillor George Owers said there was a growing expectation on councils to enable and support custom-build and cohousing groups.
He added: "The council is looking at a number of models for new housing provision and a mixture is needed to tackle the housing crisis. Sale of the land will release funds which can be reinvested in other council priorities, bringing benefits to the wider city."
Planning consent will be sought in the next six months, with work expected to start in February 2016. The homes will be manufactured in Sweden and assembled and finished on site.
Source
This story first appeared on Building Design