Firms send railway back to drawing board over £1.5bn worth of work just weeks after £435m Curzon Street job drew blanks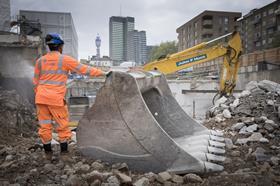 More contractors have told HS2 to be more realistic with the amount of risk they can be expected to shoulder, forcing the railway into a procurement rethink over two further jobs worth £1.5bn on the £56bn scheme.
HS2 has already had to scrap the process to find a contractor for the £435m station in the middle of Birmingham because not enough firms were prepared to build it under the terms they were given.
Now a pair of Prior Information Notices published on the Official Journal have revealed HS2 has had to come up with a new strategy for contracts to build overhead catenary and trackwork on Phase 1, the stretch of line running from London Euston to Birmingham Curzon Street, as well as Phase 2a, from Birmingham to Crewe.
HS2 has previously priced the catenary and trackwork for phase 1 and phase 2a at £1.5bn.
It said: "HS2 have recognised the current market conditions are challenging and the increasing concern regarding risk transfer and have therefore revised our position to provide a better balance and overall outcome.
"The industry day will provide an opportunity to re-engage with the market and outline our revised strategy which we believe will attract a larger number of bidders, reduce risk and thereby produce a more competitive process."
The industry day, which contractors have to register for by 21 August, is being held on 3 September at the National Conference Centre in Birmingham.
Last month the railway said it was having to start again for the job at Curzon Street, designed by Grimshaw Architects, to work out what to do next.
It said it would launch a "revised strategy" for the scheme, under which less risk will be handed to the station's design and build contractor – after admitting contractors had turned their backs on the job.