Persimmon, Vistry and MJ Gleeson issue trading updates covering the covid period
Persimmon is among a slew of listed housebuilders that have today reported sharp falls in revenue caused by the covid-19 crisis in a raft of trading updates to the City.
The UK's most profitable housebuilder said completed sales for the first six months of the financial year to June 30 had fallen by more than a third, from 7,584 to 4,900, while its revenue fell by 32% to £1.19bn.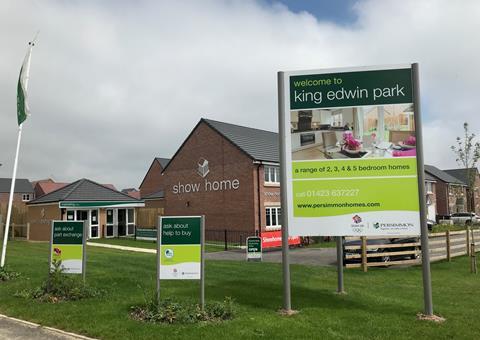 But the firm said it had seen strong reservations of new homes since the market re-opened on May 13, with average weekly reservations in the last six weeks running 30% ahead of the same period in 2019.
Group chief executive Dave Jenkinson, who steps down later this year, said the firm's build programmes had now returned to normal levels of productivity, and that the firm was in a strong financial position, with £830m of cash in the bank.
At the same time Vistry, formed at the start of the year from the merger of Bovis Homes with Linden Homes and Galliford Try Partnerships, said private completions for the first six months of the year – also to June 30 – fell by two thirds, from 3,371 to 1,235. Within this, the sale of homes to affordable housing providers fell even more sharply, dropping by nearly 80%.
But the firm's partnerships business performed much more strongly, with its mixed tenure business seeing completions dropping by just 15%, and its contracting business delivering an increase in units completed compared the to same period last year.
Combined, revenue from the two businesses fell by 46% to hit £641m, with the firm saying it expected the drop in workload to impact margin. However, the firm said site productivity had now increased to 90%, and that sales had picked up to 0.62 per site per week since lockdown restrictions on the market had been lifted.
And in an end of financial year trading update, MJ Gleeson reported it had seen a 29% fall in completions over the 12 months, down to 1,072. It said the business had now seen demand return to around 80% of pre-covid levels.
The firm said its site productivity was running at just 60%, but that this was expected to increase to 80% by September.
Earlier this week housebuilder Barratt said it saw completions in the first six months of the year fall by around 30%, while Redrow last week reported a drop in completions of 37%.
And Scottish housebuilder Springfield, which furloughed 90% of its staff in April, has said revenue and profit in the year to May will both be significantly down when its reports its annual results in October.
The firm was hit hard by the tighter lockdown restrictions north of the border and in an update earlier this week said revenue would be down a quarter with pre-tax profit tumbling 44% on last year's figure.
Springfield said the covid-19 shutdown meant it was unable to complete any of its homes scheduled for handover in April and May – which in the past couple of years have accounted for one third of its revenue.
It said income would now be £144m, against £191m last time, with pre-tax profit falling to £9m from £16m.
The Construction Product Association has estimated that housebuilding output in the UK will drop by 42% in 2020, with housing starts down around 60%.