Exclusive: construction firm wins BDP-designed research facility contract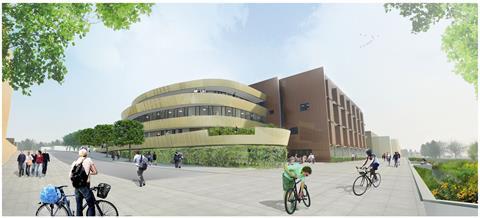 Contractor Morgan Sindall has won a £41m contract to build a new BDP-designed research facilty at the University of Cambridge.
The new Chemical Engineering and Biotechnology facility, designed by architect BDP, is located at the university's growing science and technology campus at West Cambridge.
The project follows the merger of the university's Department of Chemical Engineering and the Institute of Biotechnology.
They are presently located in separate buildings in Cambridge city centre and need room for growth.
The new facility will bring together teaching and research under one roof and be a focus for its internationally-leading activities in sensors and diagnostics research as well as reaction engineering.
The project is expected to be completed in June 2015.
Bob Ensch, area director for Morgan Sindall, said: "As you would expect from the University of Cambridge, the new laboratories will be of a standard best described as world class.
"The West Cambridge site blends academic and commercial buildings and provides the physical space that allows the University to create state-of-the-art facilities which not only compete with other leading international universities but also act as a pioneering centre for collaborative research with industry."