Concrete specialist bought Cantillon two years ago
Cantillon owner Morrisroe has said the cost of its involvement with the bid-rigging probe could hit close to £2m.
The company is one of 10 that cartel-buster the Competition and Markets Authority publicly named in June as being involved in the scandal.
Cantillon, which was bought by Morrisroe two years ago, has admitted its involvement in bid-rigging, along with seven others. "The bids were rigged by one or more construction firms which agreed to submit bids that were deliberately priced to lose the tender [known as cover pricing]," the CMA added.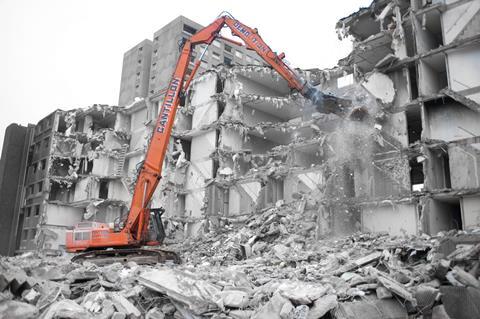 It is also one of seven of the 10 to have also been accused of making and receiving so-called "compensation payments" whereby, the CMA says, "arrangements by which the designated 'losers' of the contracts were set to be compensated by the winner". In one case, a payment was made that totalled more than £500,000.
In its latest report and accounts, Morrisroe said the maximum amount of its liability into a "regulatory matter", widely believed to be the CMA investigation, was £1.92m. "However the timing and outcome is uncertain. A provision of £720,000 has been made which reflects the director's best estimate for the potential liability from settlement of these matters."
So far, four firms have publicly said what the investigation is expected to cost them in penalties.
Careys has put the figure at £9m, Keltbray £6m while McGee, which along with Careys "reported their involvement in the conduct under the CMA's leniency policy", has said it expects the number to be no more than £2.4m.
John F Hunt has gone further, saying in its report and accounts filed at the end of May, that the "investigations have now been settled with the liability agreed at £5.6m".
Concrete frame specialist Morrisroe, which added it was aware of the investigation at the time it snapped up Cantillon in July 2020, said turnover was up a third to £202m in the year to October 2021 but pre-tax profit slumped to £2.7m from £5.8m with the firm blaming the pandemic and being lumbered with fixed-price contracts in the wake of rising materials and labour costs for the fall.
In separate accounts, Cantillon said turnover in the 16 months to October 2021 was £32.5m – from £24m in the year to June 2020 – with the firm returning to the black with a £1.7m pre-tax profit from a £1.5m loss last time. It claimed £111,000 from the government's Coronavirus Job Retention Scheme on top of the £252,000 it was handed in the period before.