Solid set of results show revenue and profit growth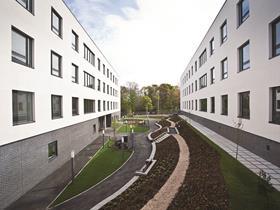 Pre-tax profit at engineer Mott MacDonald has jumped 15% in the last year, the firm's accounts reveal.
In its accounts for the year to 31 December 2012, Mott MacDonald Group Limited reported a pre-tax profit of £56m, up from £49m in 2011.
The firm also reported a slight rise in revenue, which rose to £1.1bn from £1.07bn over the period.
Managing director Richard Williams said: "Mott MacDonald's geographic and sector diversity has once again allowed us to achieve modest revenue and operating profit growth despite sluggish trading conditions in many parts of the world."
He said the firm's UK business had "benefitted from the government's recognition of infrastructure as an engine for growth". Although he added that the UK market remained "challenging".
Williams said he anticipated there would be revenue and profit growth from the Europe and Africa regional businesses in 2013.
He said business in the Middle East and South Asia remained "sluggish" while the US market was "fragile" and the Canadian market continued to provide "good opportunities".
Williams said there were still opportunities to grow the business in Australia and East Asia.
He added: "Global conditions remain mixed and in many places challenging and it is not expected that we will see any significant change in this situation during 2013.
"Rising costs are a growing threat, and with volume growth likely to remain subdued in many parts of the business, our strategy is to continue to seek margin improvement through efficiency and innovation, driving investment in sectors and geographies with stronger prospects."
Mott MacDonald Group reported a slight increase in its staff from 13,162 in 2011 to 13,249 in 2012.