Public Accounts Committee says it is "extremely concerned" by lack of progress on £20bn programme
The government's claims that using modern methods of construction will cut costs and delivery time on new hospital projects are at risk of being "pipe dreams", an inquiry has found.
The Public Accounts Committee's (PAC) first report on the £20bn new hospital programme (NHP) said it was "extremely concerned" by the lack of overall progress the NHP had made since its 2020 launch, describing the programme's development as "worryingly slow".
It warned the development and design of the modern methods of construction (MMC) approach, dubbed "Hospital 2.0", had taken too long to get off the drawing board and is now running at least five months behind schedule.
The PAC's highly critical 32-page report found that a failure to allow time for proper piloting of approaches such as material standardisation could "bake in" design and construction issues.
The NHP was originally launched in 2020 and included a pledge to build 40 new hospitals by 2030.
The programme was reset in May this year, adding five more hospitals found to contain unstable reinforced autoclaved aerated concrete (RAAC), while delaying eight of the schemes past the original 2030 deadline.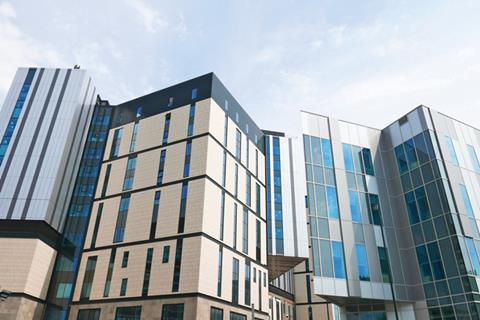 The cross-party committee, which is chaired by Labour MP Meg Hillier, said the delays had both reduced the time available to test the designs in real-life scenarios and hindered meaningful engagement between the NHP and the industry on the details of the approach.
A failure to thoroughly pilot MMC approaches could store up problems for future generations because of "defective or poorly thought through" standardisation, it said, adding a recommendation that the Department of Health and Social Care (DHSC) should start at least on early scheme next year to trial designs.
The PAC also echoed warnings made by the National Audit Office (NAO) in July over the "maximum risk" approach taken by the programme to build the majority of schemes within a five-year window, risking delays due to a lack of capacity in the industry.
>>See more: Rebooting the New Hospital Programme: Is this the solution to the NHS backlog?
"With a very large number of hospitals planned to be in construction simultaneously in the last years of the decade, we have no confidence that even the reduced target of 32 new hospitals is achievable by 2030," the PAC said.
The committee recommended that the DHSC should "urgently" examine how the programme can be made to deliver some "tangible results" by looking at whether schemes can be brought forward using pre-existing design and construction approaches .
The NHP is expected to appoint a consultant team to lead the programme within the next few months on a £600m contract lasting at least for six years from 2024.
The programme delivery partner will be tasked with developing the infrastructure, systems and processes needed to embrace the NHP's "transformative vision" for hospital construction, an NHP update said last month.