Committee orders bosses to explain why scheme will be over a year late and required a £2.8bn bailout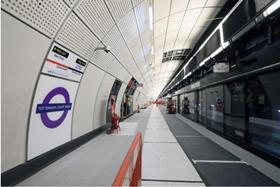 The Public Accounts Committee has said it is "unconvinced" Crossrail's £2.8bn bailout will be enough as it slammed executives for their "unacceptable" inability to explain delays.
The select committee charged with monitoring public spending said Crossrail has been plagued by an "overriding culture of over-optimism" since 2016, when the project programme began to slip.
It added: "It is unacceptable that the Department [for Transport] and Crossrail are unable to identify the root causes of the programme unravelling so quickly and so disastrously."
As a result, it has now ordered the DfT and Crossrail to produce a series of letters in the coming months spelling out who is responsible for the delays, the consequences for executives which oversaw failures, the lessons the pair have learned and the new contractual relationship between Crossrail and the department.
It was also scathing about former Crossrail executives who were "paid much more" than other senior transport executives delivering projects "of equal weight" adding: "These executives were paid to bring expertise into the programme and deliver an operational railway but failed to do so."
In its report on what has gone wrong with the scheme, the committee, which is comprised of a cross-party group of MPs, also accused the bodies of holding an "unacceptably laissez-faire attitude to costs potentially rising by nearly £3bn".
And it noted no final cost for the scheme would be available until the programme had been rescheduled and contracts had been renegotiated with builders – leaving doubt the £2.8bn additional funding will be enough to see Crossrail to completion.
New Crossrail chief executive Mark Wild has already said there is no possibility the central section of Crossrail will open in 2019 due to the extent of work that still needed to be completed.
Crossrail is due to give an idea of opening dates later this month.