Firm says it cannot justify keeping schemes open
Multiplex has become the first major contractor to shut down sites voluntarily after the prime minister put the UK on a three week coronavirus lockdown last night.
The firm is working on a string of high-profile jobs in London including the 22 Bishopsgate tower, which is close to completion, the One Nine Elms twin-tower scheme and a luxury apartments scheme called the Broadway next door to St James's Park station.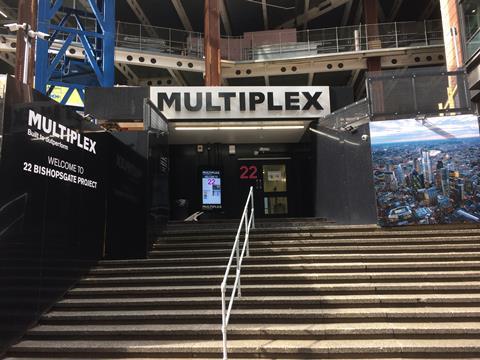 In an email seen by Building that was sent to the firm's 900 staff late last night, the firm's chief operating officer Callum Tuckett said: "In response to the prime minister's public address earlier tonight, we have no reasonable option but to close down all construction sites immediately and until further notice.
"Construction is not likely to be defined as 'absolutely necessary', we are seeking clarification of this but we feel the best and most appropriate action is to close our sites."
Tuckett said the firm, which is also working on the Elephant & Castle shopping centre scheme, had taken the decision because it was no longer possible for sites to stick to government guidelines aimed at combatting the virus.
He added: "It is not a decision that we have taken lightly. At each step of the way during this global crisis, we have carefully weighed up and complied with all of the government and medical guidance that has been issued.
"We recognise that a large proportion of the labourers that work on our sites are self-employed and rely upon site being open to generate their livelihood. So, in line with government guidance, we have sought to keep sites open whilst deploying stringent measures to ensure that operations are undertaken safely, including by implementing social distancing and cleaning protocols according to government best practice.
"The latest guidance from the government is clear, the deployment of such safety measures is no longer enough. All unnecessary travel outside the home must be stopped. Whilst the construction industry has undoubtedly a significant role to play as a key driver to the UK economy, we acknowledge that it is not so essential that we can expose our stakeholders and the wider community to the risk of physical harm.
"We also recognise the paramount obligation that all businesses now share to avoid placing any further strain on the NHS, which is going to heroic lengths to stem the spread of the virus and which needs our full support."
The industry was left in limbo last night after a Cabinet minister said it was fine for sites to remain open – less than 90 minutes after the prime minister put the UK on a lockdown.