Turnover tops £1bn for first time as profit jumps one third
A return to profit in the UK and flourishing business in Canada and Ireland helped North London contractor J Murphy & Sons improve its annual numbers last year.
In accounts now filed at Companies House, the firm said pre-tax profit was up 36% to £9.5m on turnover which went through the £1bn figure for the first time to end up at £1.1bn in the year to December 2020.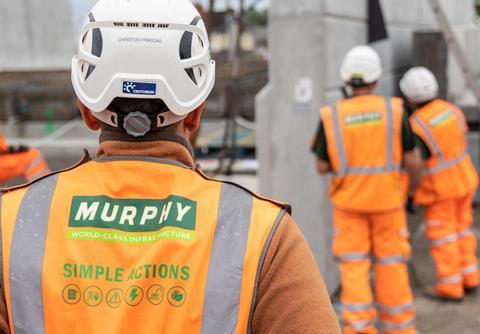 The firm said its UK arm, which helped send the firm to a £6m pre-tax loss in 2018, had improved its performance "driven by refinements made to contract selection, strengthening project controls and monitoring".
It also said that its workloads had been helped by more jobs in the rail sector including a £55m earthworks package for the East West Rail Alliance and enabling works on HS2.
Income from its Canada operations ticked up 42%, adding that work in the country had largely been unaffected by the covid-19 pandemic. It said that work in Ireland has now returned to full capacity.
Murphy said that it plans to invest £75m over the next five years in advanced environmentally friendly plant, equipment and vehicles to help achieve a 50% net reduction in emissions.
Cash reserves at the year-end were up £102m to £174m with its order book standing at £1.6bn.