The museum is to move to West Smithfield from its current home on London Wall
The planned Museum of London which is being designed by Stanton Williams and Asif Khan has been given a huge funding boost by the City of London Corporation and the capital's mayor Sadiq Khan.
The pair have pledged £180m towards the cost of the £250m project – close to three-quarters of its required budget – which will see the museum relocate from London Wall to a 25,000sq m site at West Smithfield in the City.
The new site comprises the vacant Smithfield General Market, the vacant Fish Market, the Red House, Iron Mountain and the Engine House – all of which sit at the Farringdon Road end of West Smithfield.
Museum director Sharon Ament said: "Working with our design team we can now move forward confidently with detailed plans for the new museum and remain firmly on target to open the new museum in 2022." A planning application is due to be sent in to City planners next year.
Stanton Williams and Asif Khan, who was shortlisted for the now abandoned Helsinki Guggenheim museum scheme in Finland, are working with conservation architect Julian Harrap and landscape design consultants J&L Gibbons on the scheme. Buro Four is project manager.
The new museum wants to double the annual number of visitors to two million with 8,000 sq m of permanent gallery space as well as a further 1,500 sq m of temporary space.
Last month the Design Museum said its new site at the former Commonwealth Institute in west London had in just four weeks attracted around half the number of the 200,000 people who used to visit its former outpost at Shad Thames annually.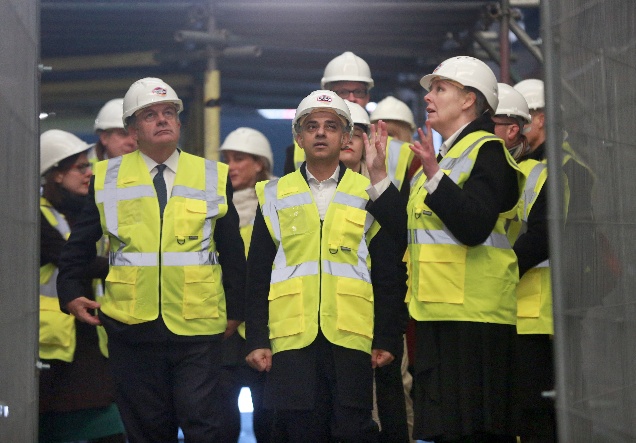 Sharon Ament shows London mayor Sadiq Khan around the proposed Museum of London site
The Museum of London's current site is planned to be the new home of the London Symphony Orchestra under the leadership of conductor Simon Rattle
Earlier this month, the scheme, called the Centre for Music, was given fresh hope just weeks after the government pulled a promise to fund a business case for the scheme
The City of London Corporation has pledged up to £2.5m to help produce the business case which is due to be completed at the end of next year.
Former chancellor George Osborne had allocated £5.5m at the end of 2015 to bankroll a detailed business plan.
But the new government withdrew funding last November leaving the scheme, which has an estimated price tag of £278m, seemingly doomed.