Reactor technology is 'unproven', government spending watchdog warns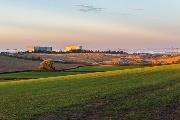 The government's controversial £18bn deal to build the Hinkley Point C nuclear power station in Somerset has trapped Britons into a "risky and expensive" project based on an "unproven" design, the National Audit Office (NAO) has warned.
In a deal approved by the Department for Business, Energy and Industrial Strategy (BEIS) last year, the new nuclear plant will be built and operated by French energy firm EDF and the China General Nuclear Power Group.
In a new report released today, the government's spending watchdog said: "The Department's deal for HPC has locked consumers into a risky and expensive project with uncertain strategic and economic benefits."
It also warned of risks to be managed during construction: "The reactor design for HPC is unproven and other projects that incorporate it are experiencing difficulties. There are no examples of HPC's reactor technology (the European Pressurised Water Reactor, EPR) working anywhere in the world."
Consumers will paying subsidies on their energy bills for the scheme for 35 years in future "top up" payments that have soared from an estimated £6 billion to £30 billion, according to the report.
It stated: "The Department has not sufficiently considered the costs and risks of its deal for consumers. It only considered the impact on bills up to 2030, which does not take account of the fact that consumers are locked into paying for Hinkley Point C long afterwards. It also did not conclude whether the forecast top-up payments are affordable."
The risks of failure are such that the government should have a "'Plan B' for achieving its objectives in the event that HPC is delayed or cancelled".
Other recommendations include making it clear who in government "holds ultimate responsibility to represent consumers' and taxpayers' interests" and having mechanisms in place to "ensure oversight structures are effective across the lifetime of the project."
Tom Greatrex, chief executive of the Nuclear Industry Association, said: "Not only will new nuclear help secure the UK's future energy needs, but will lead to substantial industrial and employment benefits – including considerable opportunities for the UK nuclear supply chain and a boost for UK manufacturing and construction at a time when the economy faces significant challenges."
In a statement, a BEIS spokesperson said: "Consumers won't pay a penny until Hinkley is built; it will provide clean, reliable electricity powering 6 million homes and creating more than 26,000 jobs and apprenticeships in the process."
But Amyas Morse, head of the National Audit Office, said: "The Department has committed electricity consumers and taxpayers to a high cost and risky deal in a changing energy marketplace. Time will tell whether the deal represents value for money, but we cannot say the Department has maximised the chances that it will be."
Report raps department over conflict of interest worries
The government used a company to advise it on the Hinkley Point C deal despite knowing there was a potential conflict of interest, according to the NAO report.
LeighFisher was paid £1.2m by the Department for Business, Energy and Industrial Strategy to "provide advice on the deal" which included checking whether EDF's estimate of costs were reasonable.
The firm is a subsidiary of Jacobs Engineering Group – which "had provided engineering and project management services, including seconded staff, to EDF in relation to the HPC deal."
The report said LeighFisher had notified the department about the potential conflict of interest but the NAO added: "The department's monitoring and management of the potential conflict was insufficient."