Developer EDF has said the cost of building Hinkley Point C has risen by £1.5bn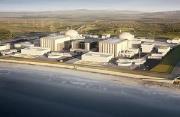 EDF has revealed the cost of the development of the UK's first new nuclear power station in 30 years has increased by £1.5bn to £19.6bn.
The French utility giant and developer of Hinkley Point C attributed the majority of the cost increase to the firm gaining "a better understanding of the design adapted to the requirements of the British regulators, the volume and sequencing of work on site and the gradual implementation of supplier contracts".
EDF undertook a review of the costs and timetable for the scheme following the firm's final investment decision last September after securing additional investment from China General Nuclear and backing from the UK government.
The firm added that the project could also be at risk of nearly a two-year delay – 15 months for the first phase and nine months for the second – which could add an additional £700m.
The revelations come after an investigation by the National Audit Office (NAO) concluded that the deal to build Hinkley Point C "risky and expensive" based on an "unproven" design.
The report published by the NAO last month added: "The [government] department [Business, Energy and Industrial Strategy] has not sufficiently considered the costs and risks of its deal for consumers. It only considered the impact on bills up to 2030, which does not take account of the fact that consumers are locked into paying for Hinkley Point C long afterwards. It also did not conclude whether the forecast top-up payments are affordable.
"The risks of failure are such that the government should have a 'Plan B' for achieving its objectives in the event that HPC is delayed or cancelled".
A spokesperson for the department for Business, Energy and Industrial Strategy said: "As the developer has made clear the project remains on track to meet its first major milestone in 2019. The UK Government negotiated a competitive deal which protects consumers and ensures that all of the cost of construction, including any overruns, sits with the contractor.
"Hinkley Point C will be the first new nuclear plant in a generation. This was an important strategic decision to ensure that nuclear is part of a diverse energy mix in the UK. Consumers won't pay a penny until Hinkley is built; it will provide clean, reliable electricity powering six million homes."