Architect beat Stanton Williams, Feilden Clegg Bradley and BIG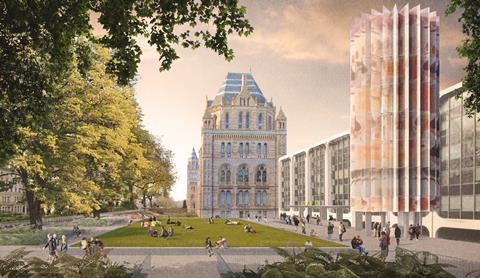 Niall McLaughlin Architects has won the competition to redevelop the grounds of London's Natural History Museum.
The practice, which is working with landscape architect Kim Wilkie, beat BIG, Feilden Clegg Bradley Studios and Stanton Williams to land the job.
McLaughin's entry was the unanimous choice of a jury that included Michael Portillo and was chaired by Capco's Ian Henderson who described it as meeting the museum's needs "brilliantly".
Competition organiser Malcolm Reading said: "All of the teams should be congratulated for rising to the challenge set by the competition. This was reflected in both the quality of their submissions, as well as the vitality of their presentations.
"But in the end it was Niall McLaughlin's proposal which reflected the real wants and needs of visitors while also being sensitive to the significance of this key site. They will now take their initial concept and work closely with the museum to develop it further."
McLaughlin praised the qualities of his rivals' entries and said: "The Natural History Museum offers the opportunity for us to reflect upon the relationship between an important building and the natural landscape that surrounds it.
"We look forward to deepening our understanding of the natural world and thinking about how the public will access this knowledge in the future."
The other shortlisted teams
- BIG (Bjarke Ingels Group) with Martha Schwartz Partners
- Grant Associates with Feilden Clegg Bradley Studios
- Land Use Consultants (LUC) with Design Engine
- Stanton Williams Architects with Bradley-Hole Schoenaich Landscape Architects