Architects Stanton williams and Fielden Clegg Bradley among five-team shortlist for grounds revamp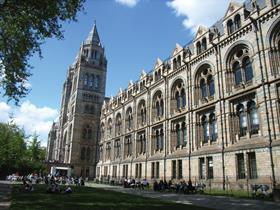 Architects Stanton Williams and Fielden Clegg Bradley are among five teams to have been shortlisted by the Natural History Museum to redesign its grounds.
Danish designer BIG and Niall McLaughlin Architects are also on the shortlist for the scheme which is designed to create "an innovative exterior setting that matches the architectural excellence of the iconic 19th Century site."
Each of the five teams comprise both an architect and landscape designers. The full list is:
BIG (Bjarke Ingels Group) with Martha Schwartz Partners
Grant Associates with Feilden Clegg Bradley Studios
Niall McLaughlin Architects with Kim Wilkie
Land Use Consultants (LUC) with Design Engine
Stanton Williams Architects with Bradley-Hole Schoenaich Landscape Architects
Dr Michael Dixon, director of the Natural History Museum, said: "We are delighted with the architectural community's response to the project and are eager to see the design proposals that aim to enhance the world class setting of the Museum. We look forward to working with the winning team"
The competition is being run by Malcolm Reading Consultants, with detailed submissions due at the end of January 2014. The winner is expected to be announced in February.