Jobs of further 900 at bust firm saved with transfers to new employers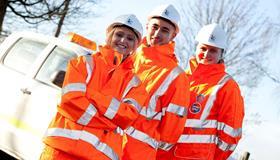 The Official Receiver has said that nearly 400 Carillion staff are being axed.
Nearly three weeks after the firm went bust, the Official Receiver said that 377 staff are being made redundant.
A spokesperson said: "Those affected will be entitled to make a claim for statutory redundancy payments." There was no detail about the likelihood and scale of further cuts.
But there was better news for more than 900 employees whose jobs have been transferred to other firms.
They include around 200 employees Kier has taken on from the road and rail joint ventures it was carrying out with the collapsed firm.
The spokesperson added more jobs would be saved. "I am expecting many employees working on other Carillion contracts to transfer in the coming weeks and we are continuing to keep the workforce updated as these are arrangements are finalised."
Carillion employed more than 40,000 staff globally around half of whom worked in the UK. Its head office in Wolverhampton had around 400 staff.
A Facebook support group for Carillion staff has now attracted more than 2,000 members.
Called Carillion Colleagues Support – Employee led, the group was created by staff the day after the firm collapsed on 15 January.