Competition open to architects and engineers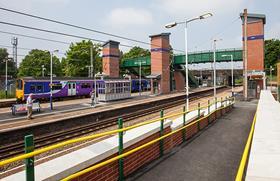 Network Rail and RIBA Competitions are on the hunt for new design ideas for footbridges.
The pair have launched a competition asking entrants to design fully accessible footbridges that can be used across Britain's rail network.
The competition is open internationally to practising architects, structural and civil engineers, as well as students of those disciplines.
A design fund of £20,000 will be available for award at the discretion of the judging panel to the submission judged to be the best response.
The judging panel includes Rowan Conway, a director at the Royal Society of Arts, Anthony Dewar, head of buildings and architecture at Network Rail and Jonathan McDowell founder of Matter Architecture who is acting as the RIBA architect adviser.
The closing date for submission of design proposals is 2pm on 18 September.
Network Rail owns just under 2,400 footbridges, providing access across the railway for both passengers at stations and people using rights of way. It has installed 200 footbridges since 2006.