Mace was due to finish new arrivals terminal next autumn
Architect Bryden Wood has been brought in to run the rule over the £600m revamp of Stansted Airport, which the owner has confirmed is on hold while it reviews the scheme.
Building understands the multi-disciplinary firm has been asked to work on a revised plan for a £150m arrivals building which had been drawn up by transport specialist Pascall + Watson and was due to open in late 2020.
The owner of the Essex airport, Manchester Airport Group (MAG), was given planning in 2017 to build a new 34,0002m terminal under a wider plan that will also see the existing terminal – designed by Norman Foster – turned into a departures-only operation.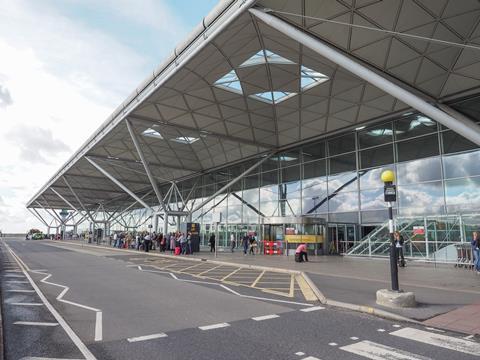 Mace was appointed to the contract, originally expected to cost £130m, earlier this year.
But MAG, which is working with Laing O'Rourke on a £570m revamp of Manchester Airport, admitted the scheme will miss next year's deadline and said: "We are currently reviewing the original transformation programme proposals and design options."
It added: "We are currently looking at further design options and in particular the final design of the arrivals terminal building, to ensure that all our planned infrastructure will not only be available when we all need it most but also that it will be suitably 'future-proofed' and allows us to respond to fluctuating travel, social and economic trends."
The firm declined to comment on Bryden Wood's appointment but in a statement Pascall + Watson said: "As far as we're aware, Stansted are currently considering the way forward." Bryden Wood, which has previously worked on Heathrow and Gatwick airports, declined to comment.
Stansted said it hoped "to share the outputs of the design development and evolution of this project with airport partners in the first half of 2020".
It said the rethink had been prompted by doubts about the UK and global economies as well as Brexit. "It's over three years since the programme began and much has changed in the world since then," it added.
The arrivals building is one of a number of developments planned including new check-in zones, eight new aircraft parking stands, a new 3,000 space car park, departure lounge seating project, a security extension and test area and £60m baggage system upgrade.
The airport, which handles 28 million passengers a year, has permission to increase this to 35 million annually but wants to up this figure further to 43 million.
The Fosters building (pictured) was completed by John Laing and opened in 1991.