Local councils have been invited to bid for funding packages worth up to £100m each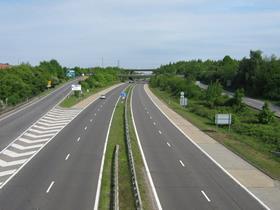 The government is aiming to plough hundreds of millions of pounds into upgrading and improving what it calls 'key A roads' across the UK.
A 12-week long consultation, launched days before Christmas as part of the Major Roads Network programme, is proposing that 5,000 miles of 'A' roads should benefit from the new funding, with local authorities being invited to bid for government cash for schemes in their area.
Successful bids would each be eligible for up to £100m of public funding, with upgrades expected to include new bypasses, road widening schemes and junction improvements.
Transport Secretary Chris Grayling said major local roads had seen a lack of investment and not been properly maintained.
The government was spending "record amounts" on road improvements, he added, a move which would "unlock no end of benefits for communities by improving motorists' journeys, taking traffic away from built up areas, as well as enabling new housing to be built and creating jobs".
The package is the second road-related funding announcement in recent weeks. Earlier this month transport minister Jesse Norman announced a £200m fund to improve the condition of local roads throughout England.