The firm's new co-chief executive speaks to Building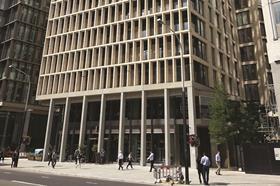 The new German owners of engineering consultant Pell Frischmann are targeting expanding the firm into the nascent PRS market in the UK, the firm's new co-chief executive has told Building.
The mid-sized engineer was bought by German investment foundation RAG-Stiftung last month for an undisclosed sum, with the investor buying a majority stake and taking over control of the firm from the Frischmann and Prabhu families.
Existing senior management team members Tushar Prabhu and Richard Barrett were made co-chief executives of the £40m-turnover firm.
Prabhu told Building RAG-Stiftung had already begun investigating possible "synergies" between Pell Frischmann and other firms within its portfolio of investments, including German PRS companies.
RAG-Stiftung owns coal mining assets in Germany and has an investment portfolio of medium-sized businesses across the engineering, machine production, automation and industrial services sectors.
Prabhu said Pell Frischmann would target "stable growth" under its owners, but said it was "too premature" to set exact targets.
He said: "We are looking to synergise with other portfolio companies in the foundation, like PRS companies, for example - obviously there are companies like that who are doing interesting things in the UK. That kind of synergy is not available if you're just consulting."
Prabhu added that the firm is also looking at potential niche acquisitions as it targets "sustainable and organic growth".
He said: "We're focusing on niche acquisitions in areas we're not as strong, like flood modelling, for example - there is a big market and a need there."
"It's also things like carbon emissions, BIM, etc. It's this kind of stuff which we are looking to bring in from the outside."
Prabhu said the engineering consultant will also continue to play roles on large-scale infrastructure projects such as HS2, but added the firm currently has no plans to challenge mega-consultants like Aecom, Atkins or CH2M.
He said: "We've got a very robust balance sheet to take on the big projects, but not become like the big firms.
"I think clients prefer that level of service you get with middle-sized firms. The top people are accessible and care a lot about it as it's personal. Middle-sized firms typically have a more caring culture."
Recent major projects include providing civil, structural and geotechnical engineering services on Land Securities' Kingsgate House scheme in Victoria, London.