Firm also inks deals worth £30m for work in India and Iraq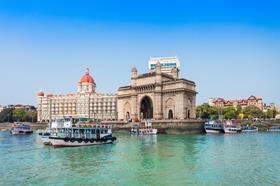 Pell Frischmann is looking at snapping up smaller firms after the consultant agreed a multi-million pound war chest with HSBC to help fund acquisitions.
The firm said the 'finance partnership' will allow it to fund an ongoing initiative to buy up smaller rivals.
Two years ago, the £42m turnover firm bought Sunderland-based M&E engineer Desco and in the last four years has doubled in size from 700 to 1,400 employees. It currently has 11 offices in the UK as well as a further six worldwide.
The number of staff on its payroll is set to go up further after the firm signed deals to carry out £30m worth of highways and water works in India and Iraq – another reason for signing the finance partnership.
The consultancy is on the hunt for 400 extra staff across the two countries and the UK.
The work in India will be for highways and water sanitation jobs in the Mumbai (pictured) region while its work in Iraq is for water sanitation only.