Decision over whether to file claims to be made this summer
The NHS trust behind the Royal Liverpool Hospital will decide this summer whether to launch legal action against Carillion's insurers and concrete subcontractor Heyrod Construction over the delays to the job.
Carillion was main contractor on the scheme when it went under more than two years ago.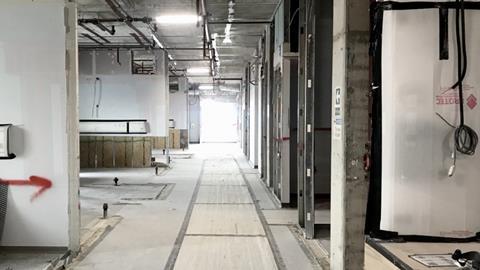 The hospital was originally due to be completed in 2017 and cost £746m to build and run.
But in an update on the job last December, Liverpool University Hospitals NHS Foundation Trust said it will not open until at least 2022 and cost another £300m to complete. Laing O'Rourke has been drafted into to finish work off.
One of the issues it has faced is defective beams first discovered in November 2016, with two said to have cracks so severe that exclusion zones were set up above and below the affected areas.
A further six beams were discovered to have less significant cracks following an investigation by Carillion.
Carillion subsidiary TPS Consult was responsible for the structural design of the works with design work carried out by Kent firm Freyssinet, which is part of French giant Soletanche Freyssinet, and Oldham firm Heyrod Construction manufacturing and installing the beams on site. The trust said two years ago the £20m repair bill was being footed by Freyssinet and Heyrod.
Papers released ahead of the trust's latest board meeting tomorrow, which will take place via conference call, said its lawyers were looking at filing claims against Carillion and Heyrod. It is due to get a further update on possible action from law firm Addleshaw Goddard this summer.
Tomorrow's meeting will also discuss the construction programme being submitted by Laing O'Rourke for the job.
As well cracks in the beams, the firm is grappling with other inherited problems such as ventilation defects in operating theatres and non-compliant cladding having been fitted.
The business case for the completion of the new hospital was due for submission to NHS England and Improvement at the end of this month.