Job is part of wider scheme at Edmonton
An energy centre that will be part of a wider heat and power plant planned for north London has been given the green light.
Designed by Stewart Stephenson Architects, the 60MW low-carbon energy centre and district heating network in Edmonton will be used to heat homes in Enfield including those at the nearby 10,000-home Meridian Water development.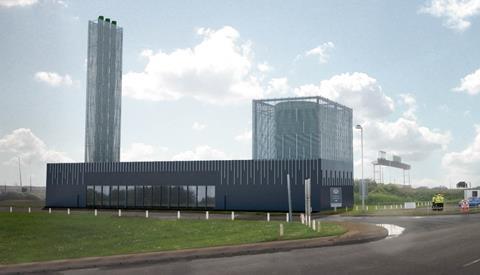 The energy centre will connect to the North London Waste Authority (NLWA) Energy Recovery Facility once it is completed in 2026, taking waste heat and distributing it to customers through a highly insulated network of underground district heating pipes.
Others working on the centre include structural engineer Buro Happold.
Energy firm Vital Energi will build the centre and heat network for supplier Energetik as well as operate and maintain it for 10 years.
Work is due to begin next January and be completed the following November.
Firms working on the wider NLWA job include Vinci subsidiary Taylor Woodrow which has won a £100m infrastructure contract at the scheme and Buckingham which was appointed to build a laydown area to the east of the Edmonton EcoPark site. The value of its deal is £8.8m.
The £1.2bn facility at Edmonton will treat up to 700,000 tonnes of waste and provide enough electricity to power over 127,000 homes.