Council acquires Guildhall buildings for mixed-use development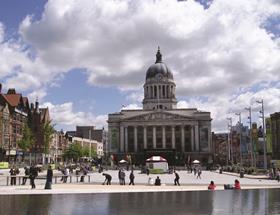 Nottingham council has acquired the Guildhall buildings in the city's centre from the fire service and the police with the aim of transforming the site into a major mixed-sue development.
The deal, announced at the Mipim property conference in the south of France, sees the city council take control of the 1.4 acre prime city centre development site, with plans already in place with developer Sanguine to refurbish the Grade-II listed former Guildhall on Burton Street into a four-star hotel.
The council is exploring developing new offices on the site and extending the conference facilities provided by Nottingham Trent University.
Bringing forward redevelopment of the Guildhall site is part of the wider regeneration activity underway across the city.
Jon Collins, leader of Nottingham council, said: "We will make sure the redevelopment of this important site has the greatest potential impact for regeneration of the city centre."