ODA's final accounts show more than £200m of CLM's payments were in performance-related bonuses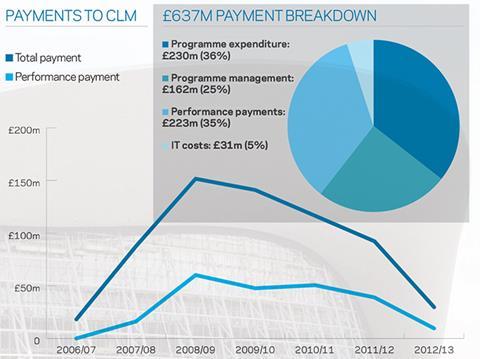 The 2012 Olympics private sector delivery partner was paid a total of £637m for its work, with more than a third of the bill comprising performance-related bonuses, the final accounts of the Olympic Delivery Authority have revealed.
The ODA's accounts, published last week, showed that CLM - the CH2M Hill, Laing O'Rourke and Mace joint venture that was appointed in 2006 as the ODA's delivery partner - was paid a total of £637m through to April 2013.
Of this £223m – or 35% – was performance-related payments.
The total bill is £237m more than the £400m fee cited in 2007 in parliament by then culture secretary Tessa Jowell after the Olympics budget was set at £9.3bn.
However, last year the ODA said it expected the payment to rise to £650m. The ODA has previously defended the rise in CLM's fee by saying it was largely due to the joint venture taking on extra work in 2009 to oversee the £1.1bn athletes village and £295m media centre, which were originally set to be procured by the private sector - as well as pointing to cost savings of £1bn across the Olympics project.
Last year Building revealed that CLM made a pre-tax profit of £162m between 2006 and 2011 on revenue of £495m - a 33% margin.
The ODA said the £637m bill was for "almost all" of the CLM's work, with further payments to be made in the current financial year for a "small amount of remaining work, and the close-out of their contract".
Meanwhile, the accounts also revealed the ODA paid £2.8m in exit payments to 144 staff in 2012/13, including an £80,000 payment to chief executive Dennis Hone, who left the organisation in March before taking up the role of chief executive of the London Legacy Development Corporation.
Hone, whose total remuneration for 2012/13 was £422,000, also had £373,000 paid into his pension.
Former ODA chief executive Sir David Higgins, who was replaced by Hone in 2010, was also paid £105,000 in deferred performance-related bonuses.
An ODA spokesperson said the exit payments for staff, other than Hone, were limited to statutory redundancy pay, while Hone's performance related-pay "was far from guaranteed and was measured against tough performance criteria".
She said: "We needed to recruit and pay for the best talent from the private and public sectors, requiring people in many cases to give up secure long-term jobs elsewhere, with no certainty of […] getting a job after the Games."