Criticism of short-term thinking on funding and procuring maintenance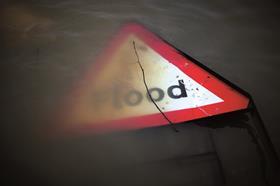 Some five million properties in England - one in six - are at risk of flooding from coastal, river and surface water, according to a new report from the House of Commons public accounts committee.
The influential group of MPs warned of "major risks to the sustainability of current levels of flood protection, which could impact on long-term value for money".
The committee said that the Environment Agency, which is responsible for the maintenance of 45% of all flood defences, "has limited resources and must make difficult decisions about what it can and cannot fund". This meant that in August 2014, "around half of all asset systems were on a 'minimum' [maintenance] regime".
Local authority flood strategies were described by the MPs as "crucial" to the success of flood risk management, but they said that "by March 2014 only 16% of local authorities had a flood strategy in place".
The MPs were also concerned about attempts to lever in private funding to pay for flood defences. In 2011, the Department for Environment, Food and Rural Affairs (Defra) introduced a new partnership funding model for flood defences, which aimed to raise £600m over six years. So far, £140m has been raised, according to the committee. The MPs said that "the approach to accessing partnership funding does not yet have the strategic focus needed to match government's ambitions for it".
Flood defence funding did receive a boost in chancellor George Osborne's Budget, with £57m of funding brought forward for flood defence schemes in the East and South-east to help makeup for an estimated £600m shortfall of funding in the government's £2.3bn flood defence programme.
Richard Bacon, Tory MP for South Norfolk and a committee member, said: "The current capital budget for flood risk management has been approved for a six-year period, but the revenue budget settlement is agreed on an annual basis. This limits the agency's ability to take a long term approach to planning and procuring maintenance. The agency's new long term investment strategy should be used as a basis to negotiate future settlements."