Skills gap author says aim to build 200,000 homes a year this parliament 'needs reality check'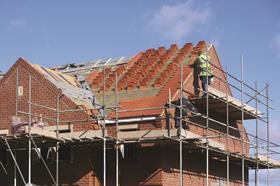 The man behind an upcoming report on how to recruit more people into the industry so it can build more homes has said it is unrealistic to expect the required 200,000 a year to be built over this parliament.
The government has said it wants one million new homes in England by 2020 but Mark Farmer, the chief executive of consultant Cast, said: "We're already behind the curve on the housing target – it's not realistically going to happen. We need a reality check."
The government is worried that current business models are preventing the industry from developing the skills it needs. Announcing the news of Farmer's report in February, then housing minister Brandon Lewis said the government was "determined to make sure that there are enough skilled workers to get the job done".
As part of this, it asked the Construction Leadership Council (CLC) to review what skills the industry needs to provide the homes required. The CLC asked Farmer to come up with an action plan that will bring more workers into the industry to help build the homes needed as well as the glut of infrastructure jobs planned in the coming years.
He is putting the finishing touches to the report, due out in early October, which will also look at how the industry can encourage investment and new ways of working, such as greater use of off-site construction.
Analysis last year by Farmer, conducted when he was at Arcadis, suggested the industry would need to recruit a further 120,000 workers to get production of housing up to the level required to meet need, including a further 53,000 bricklayers.
But Farmer told Building: "We can't fixate on bringing in more chippies or brickies. We have to modernise the way we work. We can't just get another 5,000 people in.
"We have to reduce our dependence on labour and move into more manufacturing-led construction and away from site-based."