Topping out of ArcelorMittal Orbit attended by Arup and Ushida Findlay Architects who worked up Anish Kapoor and Cecil Balmond's design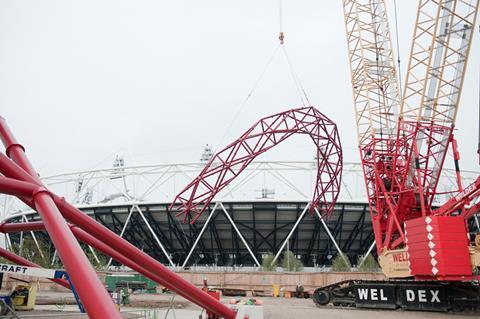 The ArcelorMittal Orbit on the 2012 Olympic park has become the tallest structure in the UK following its topping out.
The topping out of the Orbit, designed by Anish Kapoor and Cecil Balmond and built by Olympic contractor Sir Robert McAlpine, took place on Friday afternoon thanks to favourably calm wind conditions and means it has now reached its full height of 114.5m – 22m higher than the Statue of Liberty.
Steel work on the structure, which started in November last year and is made up of a 2,000 tonne looping latice of steel, is now complete and fit-out will now take place before it opens to the public at the start of the Olympic Games.
Visitors from the top will be able to see for 20 miles. They will be able to take a trip up the structure in a lift and down too if they wish to; although they will be encouraged to walk down the spiral staircase, which is composed of 455 steps.
The Orbit has also been worked on by Arup and Ushida Findlay Architects, which has been responsible for architectural elements including the staircase, which is made of a stainless steel mesh and no longer matches the dark red of the rest of the sculpture as originally envisaged.
Lakshmi Mittal, chairman and chief executive of ArcelorMittal said: "We conceived this project in partnership with Mayor Boris Johnson, Anish Kapoor and Cecil Balmond, not only to provide an iconic, cutting-edge centrepiece for London 2012, but to ensure the Olympic legacy will stretch well beyond the Games itself, helping to ensure the ongoing regeneration of this part of London."
Boris Johnson, Mayor of London, said:"What better calling card for London 2012 than a piece of truly spectacular modern British art to drive visitors to east London in perpetuity. It would have boggled the minds of the Romans."
The ArcelorMittal Orbit is expected to be completed and handed over to the Olympic Park Legacy Company in May 2012 and will be operated by Locog during the Games. After a period of transformation, the Legacy Company is expected to re-open it as a visitor attraction.
ArcelorMittal has committed to funding up to £19.6 million of the £22.7 million cost of the ArcelorMittal Orbit, with the outstanding £3.1 million provided by the Greater London Authority.