Budget: But the boost will not come into effect until 2015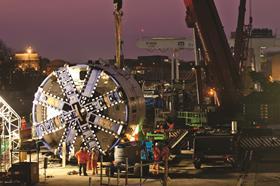 George Osborne has announced £3bn of extra capital spending in the Budget today, but the boost will not come into effect until 2015.
Osborne said that under existing spending plans, capital spending was due to fall back in 2015-16, but "using our extra savings from government departments, we will boost our infrastructure plans by £3bn billion a year from 2015-16".
He said this would mean the government would provide £15bn of extra capital spending over the next decade.
The chancellor also indicated that the Treasury was "writing guarantees" to build new power stations - a reference to the UK guarantees scheme, but it was not clear it this applied to nuclear power stations or the Drax biomass station, which has already been announced.
The chancellor said the Office for budget Responsibility had forecast that economic growth would be 0.6% this year, but that the Uk would "avoid a second quarter of negative growth".
He said the OBR then expected growth to rise to 1.8% in 2014, 2.3% in 2015, 2.7% per cent in 2016 and 2.8% in 2017.
Other highlights included:
As expected Osborne said he accepted the idea of a "single competitive pot of funding for local enterprise", but did not say how much Whitehall funding would be devolved into this funding pot
He said the government would take two major carbon capture and storage projects to the next stage of development.
He said the government would introduce "a generous new tax regime, including a shale gas field allowance, to promote early investment" - but did not mention if a finance deal had been struck on the Hinkley nuclear project, which the government granted planning permission this week