Slough Borough council has appointed Osborne's property services division on a seven year contract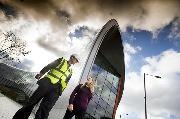 Osborne Property Services has been awarded a £140m maintenance contract by Slough Borough council.
The contract which will begin in December will see Osborne providing 7,000 homes with a range of services.
The services will include mechanical and electrical services, compliance, repairs, voids and capital investment works, caretaking and cyclical cleaning programmes.
Slough currently looks after 60,000 homes across the capital which it says will allow it to "drive efficiencies and value for money".
The seven year contract also has a Return on Investment element, which is part of Osborne's CSR work.
This means that Osborne will have an office space with the council in Slough that will create jobs for local people and also mean that Osborne is part of, and understands, the community it serves.
Osborne Property Services managing director Carol Bailey said: "Osborne will become truly embedded within Slough, helping shape and deliver the exciting plans they have for the benefit of the whole borough."