Chancellor says he is "passionate" about £43bn project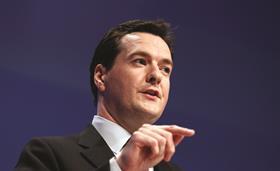 Chancellor George Osborne has defended the government's continued support for HS2 amid increasing pressure to drop the project.
Osborne told the BBC's Andrew Marr Show yesterday that he was "passionate" about the scheme and that it had "a good budget, which has got a very big contingency in it".
The construction budget for the scheme was increased in June to £43bn from £33bn.
Osborne said: "As we demonstrated with the Olympic Games, we can deliver these big projects actually sometimes under budget."
"I'm passionate about this project because time and again, we have this debate in our country about how we're going to bring the gap between north and south together, about how we're going to make sure that our growth is not just based on the City of London.
His comments come just days after Camden council called for an urgent review of the scheme after it published research, which found the budget for compensating residents in the borough for the disruption was too small.
The research by consultants Lambert Smith Hampton, Regeneris and Pell Frischmann found the cost of compensating just Camden residents could reach £1.03bn, while the compensation budget for the entire scheme is £1.07bn.
Sarah Hayward, leader of Camden council, said: "Cracks in the case for HS2 are widening and deepening all the time."
She said the council's study "substantiated" people's doubts and "underlines the threat this railway poses to our community".
Hayward added: "Cost confusion equals chaos for Camden and HS2 Ltd needs to rethink its plans, fast."
Criticism of the scheme has been mounting in recent months with both Lord Mandelson and former chancellor Alistair Darling, both cabinet members when the scheme was first approved, speaking out against the plans after the cost was revised upwards.
Last week, the Institute of Directors has also called for the government to scrap the shceme and called it a "grand folly".
Plus, a study by the Institute of Economic Affairs published earlier this month claimed knock-on costs from the scheme could push the total price to £80bn.