Chancellor effectively agrees to write off the VAT on the London project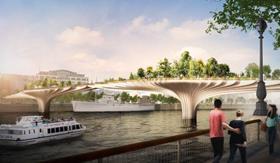 The Chancellor has confirmed the government will invest £30m in designer Thomas Heatherwick's Thames Garden Bridge project.
The bridge, which has been drawn up with Arup, would span the Thames from Victoria Embankment, on the north bank, near Temple, to the South Bank between Waterloo and Blackfriars bridges, providing a new walking route from Waterloo to Soho and Covent Garden.
It is estimated to cost £150m.
In today's Autumn Statement the chancellor said the government would provide a £30m contribution to the costs, roughly the amount of VAT that would normally be paid on the project.
The rest of the money is set to come from Transport for London (TfL) and private investors.
The project is due to be submitted for planning permission in spring next year and is set to open in 2016.
Announcing the plans in June this year Heatherwick said: "We are excited to have been selected by TfL to explore the opportunity of a pedestrian river crossing. The idea is simple - to connect north and south London with a garden."
Mervyn Davies, chairman of the Garden Bridge Trust said: "We are delighted and grateful for this welcome contribution which will play a significant role in turning the vision to build the country's first garden bridge into a reality.
"The Garden Bridge will be an exciting landmark and a major new river crossing for London, linking the South Bank with the Strand and offering a quiet and beautiful way to cross the Thames.
"A large proportion of the cost of the Garden Bridge is expected to come from private donors and we will begin an active fundraising campaign next year to build on this very clear demonstration of support and confidence in the project."