Project is now within sight of its £150m target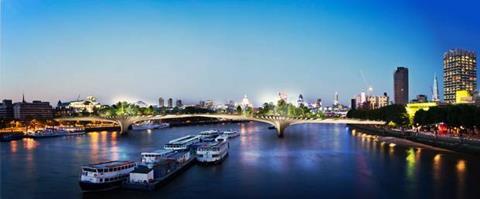 Fundraising for Thomas Heatherwick's garden bridge has passed the £100m mark.
The news that fundraising had reached £110m, announced by the designer himself this week, means the project is now within sight of its £150m target.
The Treasury and Transport for London each contributed £30m. The rest has come from private donations. An anonymous family donated a large sum with the sole proviso that naming rights could not be sold. A fundraising campaign will be launched in the summer to encourage the public to support the final push.
"It won't be called the Megabrand Bridge," Heatherwick told a packed audience at the Design Museum.
"The spirit of this family's contribution is that half a million Londoners or Brits should have the chance to help it happen."
He said the bridge would be taken to people's hearts more readily if they could walk across it and say "my dad gave this branch" than if it was given to them on a plate by the mayor of London or the Chancellor.
"The problem is if we don't raise the money by this time next year the project won't happen because the super sewer will stop all river construction for a decade."
The bridge, designed like two giant planters straddling the Thames from Temple Tube station to the South Bank, will be made from cupronickel.
Heatherwick said they had searched for the perfect material to link the "stone and brick poshness" of the north bank and the "concrete brutalism" of the south.
"It has a warmth we are excited about. It's not clinical like stainless steel. It's also saline-safe as the river is so tidal there. And we can't be re-painting it."