Chancellor and business secretary Sajid Javid impose housing on councils without local plans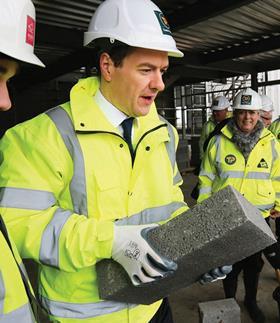 Chancellor George Osborne and business secretary Sajid Javid have set out plans to rip up planning rules on brownfield land to give developers "automatic permission" to build on previously used sites.
In moves which have already been warmly welcomed by housebuilders, Javid said the government will take on councils which haven't drawn up local plans – giving the government the power to impose a plan for housing on councils without one.
The changes are part of a far-reaching plan published this morning to boost the UK's economic productivity, which also sets out a roadmap for government policy across a raft of areas including skills, transport, energy and financial services.
In a further blow to the social housing sector, which was hit this week by a proposal to force landlords to decrease rents over the course of the parliament, the plan says housing budgets will be "re-focused" at the forthcoming spending review to support low cost home-ownership rather than housing for rent.
The plan, called "Fixing the Foundations" also unveils a move to a "zonal" planning system for brownfield land, allowing sites included on the proposed register of brownfield land automatic "permission in principle" to be developed. Compulosry purchase powers will also be beefed up, with further proposals on exactly how this is done to be brought forward int he autumn.
In a speech at the site of the former Longbridge car plant in Birmingham, Javid said: "We're going to introduce a new zonal system, which will effectively give automatic planning permission on suitable brownfield sites like the one behind me. We'll make sure the homes that are needed get built – if a council fails to produce a suitable local plan, we'll have it done it for them."
The move to impose housing numbers on local authorities comes five years after former communities secretary Eric Pickles scrapped the former Labour government's "Soviet tractor style top-down" regional plans which imposed housing numbers on local authorities. At the time Pickles described them as "a national disaster that robbed local people of their democratic voice, alienating them and entrenching opposition against new development."
Councils will be required to "plan proactively" to create the government's proposed "starter homes", of which it has already set out a target to build 200,000 over the next five years. Every "reasonably sized" housing site will have to include a proportion of starter homes.
The plans include further devolution of planning powers to the mayor of London, and greater permitted development rights for homeowners in the capital to extend their homes without needing planning permission. On social housing, it says: "In the Spending Review, the government will take further steps to re-focus Department for Communities and Local Government budgets, focussing on supporting low cost home ownership for first time buyers."
Stewart Baseley executive chairman of the Home Builders Federation welcomed the moves. He said: "The lack of available developable land and delays in the planning system are the biggest barrier to the country building the homes it needs. If the industry is to increase supply closer to the level needed we need more land to come through the system more quickly. Speeding up the rate at which planning applications on previously developed land are processed; and closing the gap between central government ambition and local authority performance is key."
The British Property Federation has already said the plans could be hamstrung by the severe shortage of resources afflicting local planning departments. Melanie Leech, chief executive of the British Property Federation, said: "We are particularly pleased to see a commitment to bring forward brownfield land for redevelopemnt and also the focus on Local Plans, as the absence of such is a real block to local growth.
"In order for these changes to make a difference, however, we strongly urge government to begin a dialogue with both the public and private sectors on how to address the severe shortage of funds which is afflicting local planning departments. The private sector will need to play a part in helping to address this funds shortage, and this needs to be explored fully if we want these new measures to work."