Budget also contains promise of new roads fund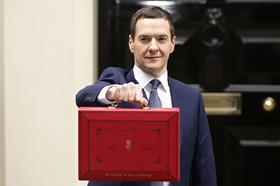 George Osborne has announced a new compulsory national living wage to come into force in April 2016, starting at £7.20.
In the first Conservative budget since 1996, Osborne added that National Insurance contributions are also being cut for SMEs so that they can employ at least three people full-time on the new minimum wage.
Touching on skills, Osborne said it was "a national shame" that apprenticeships were underfunded, and to ensure they are of high quality he is launching an apprenticeship levy on all large firms.
Osborne also announced the launch of a new roads fund to improve the UK's roads, saying "that every single penny raised in vehicle excise duty will go towards it".
The Help to Buy ISA will be launched this autumn, while the Right to Buy for housing association tenants and further reforms will be announced on Friday.
Osborne also announced the government will review how to create a "more level playing field" between those "buying to let and those buying to live".
Delivering his Budget speech, the chancellor of the exchequer said the country was "fundamentally stronger" than it was five years ago, but added that the Britain still doesn't build enough or train enough.
He said he wanted the government to be bold in delivering infrastructure and the "Northern Powerhouse" and acknowledged that when it comes to roads Britain lags behind the likes of France.
On Devolution the chancellor has announced that an agreement has been reached with the ten councils of Greater Manchester which will see fire services and employment program powers devolved and a land commission set up in the city.
He added that the government is working towards devolution deals with Sheffield, Liverpool, Leeds and west Yorkshire.
Confirming the changes to inheritance tax threshold leaked over the previous weekend – married couples will be able to pass on £1m free of inheritance tax to their children and grandchildren by 2017.
Osborne announced that housing association tenants who earn more than £30,000 or £40,000 in London will be required to pay up rent up to the market rate, but rents in the social housing sector will be reduced by 1% a year for the next four years.
He is also abolishing the right to housing benefit for 18-21 year olds and says that the "benefits system should not support lifestyles and rents that are not available to tax payers".
A welfare and work reform bill to be published tomorrow.
The NHS is to benefit from a further £8bn a year as Osborne says that "public spending should reflect public priorities".
To much laughter, Osborne said the MP for Uxbridge, Boris Johnson, had brought to his attention the bad state of repair that the RAF group fighter command centre in west London is in and announces that it will be renovated.
More to follow.