CBI wants chancellor to provide clear project plans, including timescales, in Autumn Statement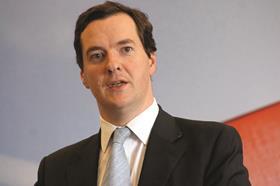 Industry leaders have issued their final pleas to chancellor George Osborne to boost the infrastructure and housing sectors, ahead of next week's Autumn Statement.
Osborne is expected to refresh the pipeline of projects in the government's National Infrastructure Plan (NIP) and to confirm an infrastructure guarantee for EDF's planned Hinkley Point C nuclear power plant.
This week, the CBI urged Osborne to prioritise infrastructure spending in the statement, which provides an update on the state of the economy and the government's spending plans.
John Cridland, CBI director general, said businesses wanted the government to set out clear project plans, including timescales.
Specific projects requested by the CBI include: tunnelling the A303 under Stonehenge to relieve congestion to the South-west; continued momentum on the upgrade of the A14 between Cambridge andHuntingdon; and a final decision on a government guarantee for the Hinkley Point C nuclear power station.
Richard Threlfall, KPMG's UK head of infrastructure, building & construction, said the government had signalled that it would beef up the NIP, adding: "We are going to see more of an acknowledgment that a long-term infrastructure strategy is needed."
But Alexander Jan, leader of Arup's transport transactions advice team, said the government's ability to identify more cash for infrastructure was limited by the wider squeeze on public finances, within which certain areas of spending have been safeguarded, notably health.
The Home Builders Federation called for the government to further streamline the planning system to help small housebuilders, including introducing a new principle of development certificate enabling builders to avoid going through all the current planning hoops.
Meanwhile, the deadline for responses to the Labour party's review on infrastructure, chaired by Sir John Armitt, has passed.
In its submission to Armitt's review, the Institution of Civil Engineers (ICE) called for the Treasury's existing Infrastructure UK unit to be beefed up, rather than replaced with a new agency.