Energy firm EDF's boss warns it is "not simple" to finalise details of funding deal with the government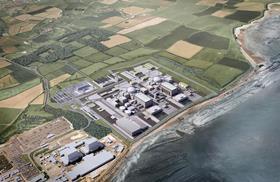 EDF expects to make a decision on whether or not to give the green light to its £16bn Hinkley Point new nuclear plant project in the first quarter of 2015, the firm's boss has revealed.
Speaking at a Nuclear Industry Association conference in London last week, Vincent De Rivaz, chief executive of EDF Energy, said he "hoped" to make a final investment decision on the plant before the end of March next year.
EDF received approval from the European Commission for its financing deal with the UK government in October, under which taxpayers will subsidise the price of electricity from the plant.
De Rivaz said it was "not simple" to finalise the contracts that underpin the deal.
He said: "We have to transform these head of terms from 80 pages into final contracts which will be thousands of pages long."
He added: "What I hope to reach is a final investment decision in Q1 of 2015. I can tell you the UK government and the investors and suppliers are all working hard to get there."
The final investment decision is already well behind schedule. It was originally expected as early as 2011. The last date given by EDF was July this year, but that came and went without any decision.
Fears for the future of the project arose last month when the reactor supplier for Hinkley Point C and investor Areva issued its second profit warning in three months.
But last week De Rivaz played down those fears. He said: "It is a public company and the French minister for economy said the will of the French government, which owns 87% of Areva, is the continuity of the company and the strengthening of the company."
He confirmed EDF is looking for further investors in the Hinkley Point project from "countries with their own plans for nuclear", which he said would open up opportunities for UK businesses.
De Rivaz also said that he had authorised preparation of the site, which is being done by a joint venture between Kier and Bam Nuttall, to ensure the plant would be complete by 2023 as scheduled.