Chief secretary to the Treasury Danny Alexander lays out plans to commission new homes directly from Westminster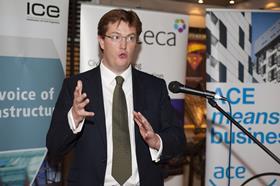 The government has unveiled moves in its National Infrastructure Plan to become a direct commissioner of new housing and revamp the compulsory purchase process.
Treasury chief secretary Danny Alexander launched the latest annual update of the plan this morning at the Institution of Civil Engineers, where he announced that the government is looking at directly commissioning new housing.
Under this approach, which is being piloted at the Northstowe development of 10,000 new homes in Cambridgeshire, the government would directly procure new homes from contractors on public land rather than using a developer.
Alexander said that a government review of housing delivery, which is being led by Local Government Association housing spokesman Keith House, would look at how the public sector could play a more active role in the commissioning of new homes. He said homes could be commission either by Whitehall or local councils.
In addition the government has pledged £1.9bn to extend the Homes and Community Agency's Affordable Homes Programme by another two years, which will support the delivery of around 110,000 homes between 2018 and 2020.
Alexander also announced that the government would be publishing a consultation in next spring's budget on a reform of compulsory purchase orders in a bid to make it easier to develop brownfield land.
Other announcements in this morning's plan included:
A £100m to fund infrastructure and land remediation to help bring forward development of a new garden city of 15,000 homes at Ebbsfleet in Kent.
An intensification of negotiations with the promoters of the Swansea Tidal Lagoon on whether the project is affordable and represents value for money
Financial backing for a new garden city at Bicester containing up to 13,000 homes
Details on how £2.3bn of investment in flood defences, first announced in 2013, will be spent including new schemes in Kent and the Thames Valley, which were hit by last winter's floods. The government claims the investment will support 1,400 projects and protect 300,000 homes.
£15bn of investment in the strategic road network, as announced yesterday (Monday), including turning both the A303 to the South West and the A1 north of Newcastle-upon-Tyne into dual carriageways
Alexander also said that the Treasury had reached an agreement to co-operate on the construction of a new nuclear plant at Moorside, Cumbria with developer NuGen and its shareholders Toshiba Westinghouse and GDF Suez.
The NIP sets out a pipeline of 263 projects with a total value of £460bn worth of public and private sector investment. And it says that more than 60% of NIP projects and programmes are either being built or are complete, compared to 45% at this time last year.
Alexander said annual investment on infrastructure had reached an annual average of £47bn during the lifetime of the coalition government, which represented a 15% increase on such spending during the last Parliament.