Declining housing work behind biggest fall in new jobs since 2013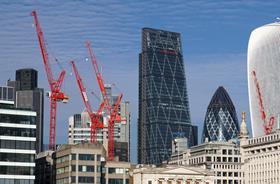 Construction output has continued to grow but the industry appears set for challenging months ahead as new orders hit a five-year low.
Output continued to recover following a weak start to the year increasing by 3.3% in the three months to July 2018, according to the latest ONS figures.
But total construction new orders fell 6.5% in quarter two 2018, slipping for the third consecutive quarter, reaching its lowest level since quarter one 2013.
The three-month on three-month growth in July 2018 was driven by growth in both repair and maintenance and all new work, which increased by 5.3% and 2.3% respectively.
Output also grew in the month-on-month series, increasing by 0.5% in July 2018, driven predominantly by a 4.0% increase in new private housing work.
But longer term worries were flagged with the 6.5% decrease in new orders, predominantly driven by a 17.6% fall in new housing orders.
Blane Perrotton, managing director of property consultancy and surveyors Naismiths, said: "While contractors are clearly busy right now, few have full order books. The 6.5% slump in new orders in the second quarter of the year reveals just how wary developers are to commit to new projects in the current environment. The industry is flying a holding pattern – waiting for something, anything, to break Britain's political and economic limbo."
Michael Thirkettle, chief executive of consultant McBains, added: "Underlying growth remains fragile however, and the real test will be if this can be sustained in the months to come, given the uncertainty over issues like Brexit."
And the chief executive of Scape told the government it needed to keep confidence going in the run-up to the UK leaving the EU at the of next March.
"Greater clarity is critical to prevent current confidence waning," said Mark Robinson. "Quick and bold decisions now on both long and short-term projects would go some way to continuing this momentum through the remainder of the year."