Groundworks giant posts strong results thanks to international expansion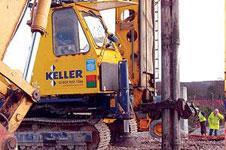 Growth overseas helped groundworks giant Keller double pre-tax profit in the financial year ended 31 December 2012.
The London-listed specialist posted pre-tax profit of £43.5m, up from £21.9m the previous year, while revenue also grew 14% to £1.32bn from £1.2bn.
The firm's home region of Europe, the Middle East and Africa (EMEA) was the only one of its four divisions not to grow revenue and profit.
EMEA revenue fell 7% to £359m from £385m, while operating profit fell from £8.4m to £2.2m.
The firm's North America business grew particularly strongly, while the firm's Asia and Australian businesses also grew.
This year Keller expects "continued steady strengthening" in North America and "good opportunities" in Asia and Australia, although the firm said this year may be a "period of consolidation" in these regions after a "very strong 2012".
Justin Atkinson, Keller chief executive, said: "These results reflect an improved performance in three of our four divisions, driven by a combination of the self-help measures taken across the Group and a strong performance by our business in North America, where market conditions continue to improve.
"Whilst our EMEA division faced very challenging markets across most of Europe, resulting in a first-half loss, its performance improved as the year progressed and it made a profit for the year as a whole.
"Overall, we are confident that 2013 will be another year of progress and that the measures we have taken, and continue to take, will further improve and develop our business."