Westminster ordered to halt granting planning consent for £775m scheme by communities secretary
Communities secretary Savid Javid has put the brakes on Renzo Piano's controversial Paddington Cube after issuing a notice preventing Westminster city council from issuing formal planning consent for the scheme.
Javid has issued an Article 31 notice to allow time for the secretary of state to consider whether the 19-storey, mixed-use scheme needs to be called in.
Article 31 directions are rarely used to intervene in planning applications and usually reserved for complex proposals which require greater scrutiny.
A spokesman for anti-Cube campiagner Save Britain's Heritage said: "The decision is unusual when a call-in has been requested – it isn't standard procedure to do so and would suggest the case is being looked at in detail. We continue to believe that this controversial application must be the subject of a public inquiry at which all the complex issues can be examined, tested and challenged."
In a letter to the council earlier this week, the Department for Communities and Local Government's planning casework manager Lorraine Gamble said that the minister had directed the council to "not grant permission these applications without specific authorisation".
The letter added: "This direction is issued to enable him [secretary of state] to consider whether he should direct under Section 77 of the Town and Country Planning Act 1990 that the applications should be referred to him for determination."
Javid's intervention comes after campaigners including Save Britain's Heritage, the Georgian Group and the Victorian Society had raised concerns over the scheme, which lies adjacent to Paddington station and close to St Mary's Hospital.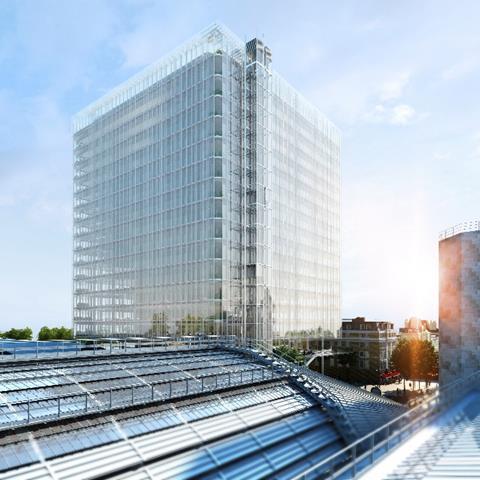 Historic England had also raised objections to the proposals within the Bayswater Conservation Area. Save president Marcus Binney had previously described the plans as a "violation" of Bayswater and Brunel's grade I listed train station, saying that it was "gratuitously overscaled".
The £775 million Paddington Cube scheme, which has been designed by Piano on behalf of Shard developer Seller Property Group, which declined to comment, and Great Western Developments, had been given the OK by Westminster on December 6 and replaced previous designs for a 72-storey 'Paddington Pole' at the site of the former Royal Mail sorting office.
London mayor Sadiq Khan decided against calling the scheme in himself earlier this month but said issues surrounding access to St Mary's Hospital needed to be addressed prior to the signing of section 106 agreements for the project. Following Khan's announcement on February 6 Imperial College Healthcare NHS Trust issued a statement highlighting that it had not been able to "resolve long-standing concerns about the Paddington Cube development in terms of future access to St Mary's Hospital".
The founder of Create Streets, which ran a competition last year to propose an alternative to the Paddington Pole, Nicholas Boys Smith, said: "This is excellent news. The Paddington Cube is the wrong proposal, in the wrong place at the wrong time. No new homes, where they could be hundreds. A building which not just ignores but is contemptuous of its surroundings. Spreadsheet architecture when it should be London architecture.
"As our competition showed it is perfectly possible to develop a beautiful, street-based sympathetic development here which respects and fits in with its local surroundings – and provides more homes. The Paddington Cube is none of these things. It should be treated with the same contempt with which it treats its neighbours."