The 19-storey office-led cube replaced an earlier proposed 72-storey residential pole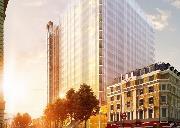 The government's approval of developer Sellar and its partner Great Western Developments (GWD) £775m Paddington Cube scheme can be challenged by a judicial review, a high court has ruled.
Save Britain's Heritage applied for permission to challenge communities secretary Sajid Javid's deicison in March not to call in the Renzo Piano Workshop-designed scheme arguing that Javid did not give sufficient reasons for his decision at the time.
Judge Sir Ross Cranston gave permission for the challenge from Save Britain's Heritage to proceed at a hearing at the High Court yesterday. The review is expected to be heard in the next three months.
Javid initially blocked Westminster City council's decision to grant planning permission in December for the 19-storey office building, before giving the green light in March.
A spokesperson for the department for communities local government said: "We are unable to comment on this matter which is before the courts."
The 33,500 sq m office cube sits within the Bayswater Conservation Area construction and would require the demolition of the Edwardian-era former Royal Mail sorting office next to Paddington Station.
Save Britain's Hertiage have not been the only objectors to the scheme with Historic Enlgand and The Victorian Society raising concerns during the planning process. Imperial College NHS Trust, which operates St Mary's hospital in Paddington also said it was worried about the project's impact on blue light emergency access routes for ambulances.
Sellar in a statement said: "We note yesterday's court decision to grant Save Heritage a judicial review relating to the Secretary of State for Communities and Local Government's decision not to call-in plans to create a major £775m mixed-use development adjacent to Paddington Station by GWD Ltd and Sellar.
"GWD and Sellar note that Save is only challenging the Secretary of State's failure to give reasons not to call in the application rather than the validity of the planning consent. It is not a challenge to the planning permission that was granted on the 14th August, following signing of the s106 agreement. That permission remains unaffected by the judicial review and work on the development will continue."