ISG, Wates and Overbury among those with places on highest value lot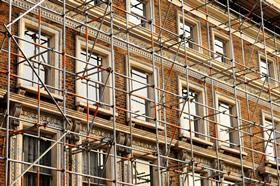 Procurement specialist Pagabo is set to launch a new framework tomorrow (Friday).
Its Refit and Refurbishment Framework, which will go live on 1 March, is aimed at extending the lifecycle of buildings with modern renovation and restoration capabilities.
Firms on the highest value lot include ISG, Morgan Sindall's fit-out arm Overbury, Vinci, Wates and Willmott Dixon. Also on this list are Osborne and John Graham.
Overbury, Vinci and Wates are among those firms on the next tranche of work, lots 3 and 4, while Willmott Dixon is also on the two smallest value lots along with a number of other firms including Esh Construction, Styles & Wood, Morris & Spottiswood and RG Carter.
The public sector framework will be broken into five project value-based lots, covering the full range of refit and refurbishment project types.
It will be used across the UK.
The framework is set to cover shell and core work, as well as category A and B refurbishment.
Clients will also be able to procure contractors for the internal refresh for occupied and non-occupied buildings and cut and carve refurbishment for all structural and non-structural modifications using the framework.
In 2018, the company's framework delivered 195 projects worth more than £462m for 450 clients.
Pagabo's refit and refurbishment framework
Lot 1 – £250k
Lot 2 – £1m
Lot 3 – £5m
Lot 4 – £15m
Lot 5 – £30m+