Insurance giant confirms Leeds plant not operating as firm wins virtual planning for Surrey housing
Insurance giant L&G has temporarily shut its modular housing factory in response to the coronavirus crisis, the firm has said.
A spokesperson for L&G Modular said its factory at Sherburn-in-Elmet near Leeds, designed to produce 3,500-homes a year, was "currently not operational", although other work at the business was continuing.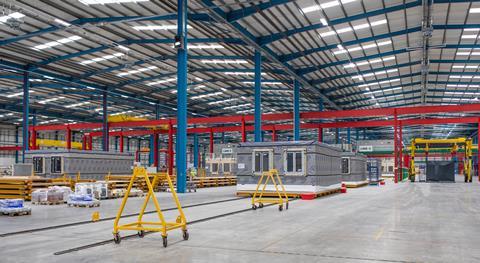 The news follows the decision by Urban Splash last month to mothball its modular housing operation after chief executive Tom Bloxham decided operations could not continue safely in the light of government guidance on social distancing.
L&G Modular's factory (pictured), plans for which were announced in 2016 as part of L&G's broader housebuilding push, has already been beset by problems, with the modular business reporting losses of £78m in the last three years.
The spokesperson said the firm had devised a strategy for safe working in the factory incorporating social distancing for when the current severe "lockdown" measures were relaxed. Last night, the government said the lockdown would continue for at least three more weeks.
She added: "During factory closure we have re-engineered our processes so we are ready to operate safely with social distancing measures in place when the time comes."
In the meantime, she said employees were either working from home or taking a holiday on the understanding hours would be worked back at a later date.
L&G set up the 550,000ft2 factory in 2016 and originally said the first homes would be rolling off the production line in by June that year. But the factory has mainly produced house prototypes since, though it did deliver eight homes for Silva Homes in Berkshire.
L&G Modular and Urban Splash are among the first of the new generation of offsite housebuilding firms to have given any insight into the impact of covid-19 on their operations. Rivals such as Ilke Homes and Vision Modular Systems have so far declined to comment when asked if operations are continuing during lockdown.
Meanwhile, L&G's later living business has become the latest to benefit from the introduction of online "virtual" planning committees, after securing permission for a 270-home retirement community in Surrey.
The ability to take planning decisions via virtual committee was rushed through by the government late last month in order to allow the planning system to continue in lockdown.
The £215m scheme, approved by Reigate and Banstead council in a committee convened using online video conferencing software, is designed to transform L&G's grade II*-listed former Kingswood headquarters into one of the UK's largest later living communities.
The new system of online committees, prohibited until this month by legislation dating from the 1970s, has already seen a 750-home Taylor Wimpey scheme in Waltham Forest approved.
L&G, which in 2017 acquired later living brand Inspired Villages, said the Kingswood scheme will also include a swimming pool, studio, gymnasium and tennis courts, dining and recreation facilities.